Katelyn Law
Raised Rowdy Contributor
Hailing from Andale, Kansas, Jill Martin has had an interesting journey pursuing her dreams of becoming a country music singer to say the least. From her days in her college band "Annie Up" to moving to Music City and meeting her husband (and fellow recording artist Logan Mize), to winning a place on American Idol in 2010, to independently releasing her debut record in 2013 that charted, it is obvious that Jill's musical career has all been a part of God's plan.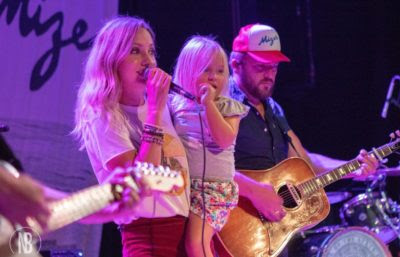 And after much wait and anticipation, her latest five song project "The Locals", is finally here! With an authentic country sound that showcases Jill's roots and songwriting that gives listeners a vulnerable glimpse inside Jill's life, the EP does in fact live up to all expectations. All of the songs on the record were co-written by Jill and her husband, Logan Mize, with the exception of "The Girl with You" and "Meet Me in Montana". Those two were written by the couple and Blake Chaffin.
"The Girl with You" is the first song that plays on the project. The song is written from the perspective of all the different kinds of girls Jill could have turned out to be from "LA rich, New York busy, Nashville famous, windy city," telling the story of how, as Jill puts it, "you gotta stop and be thankful for all the dreams that didn't come true."
In the next track, "Meet Me in Montana", that has a very reminiscent sound of a Kasey Musgraves tune, Jill describes the beauty of all the wide open spaces that can be seen in the wild west and how much more it would mean if that one special person was there with her. The melody and prominent steel guitar ties the song together and showcases the traditional sound of country music.
"Loretta" is one of my favorites on the record. The amount of emotion and vulnerability that the lyrics and Jill's outstanding vocals evoke make this song relatable to anyone out there that has struggled with loneliness, wishing the one they loved was just a little closer to home. Jonathan Singleton is featured on the track as well, blending his voice with Jill's, taking the song to another level.
"Outta of My Heart" is the song that tells the story of how no matter how much you move on, get rid of all the memories, and get things back to the way they were before, sometimes you just can't get someone out of your heart. No matter how hard you try, even when there's not a trace of them to be found, they are still there, taunting you, making you wish you were back in their arms. Once again, Jill's voice is incredible and with Randy Montana lending his voice on the background vocals, this is a song that you'll for sure want to put on repeat.
With the track "Round and Round", we finally have a duet between the power couple Jill Martin and Logan Mize! "Round and Round" captures the love shared between Jill and Logan and how it has grown stronger through the years, no matter what's thrown their way. The way the couple's vocals fit so perfectly together proves they could be country music's new Johnny and June or Tim and Faith.
The last track on the record is also the title track for the project, "The Locals." Jill wrote this as an ode to her hometown, but the best part about this song is that it could be about my hometown or yours. Because when it comes to hometowns, it's not the location or even the favorite local spots that make it so great. It's the people that are there waiting on you to come home.
Jill's EP is going to be on repeat around Raised Rowdy for a long time.
Stream it below and add her on her socials!